Steelers v Panthers

Sheffield Steelers

The Nottingham Panthers
Match Report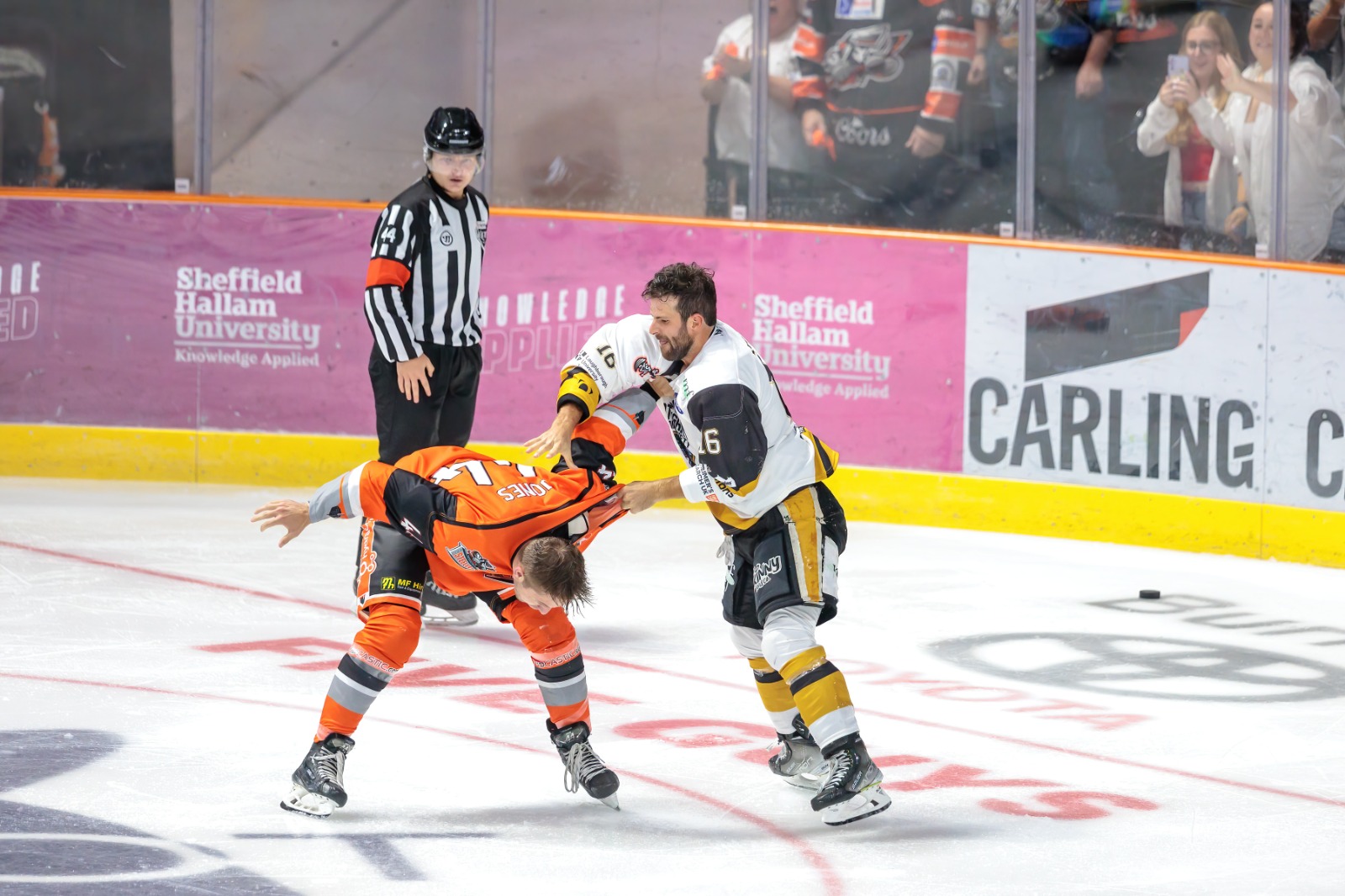 The Nottingham Panthers started their pre-season campaign with a 4-1 defeat on-the-road at Sheffield Steelers in a feisty game at the Utilita Arena.
Otto Nieminen scored on his Panthers debut but two third-period goals, including an empty-netter, secured the win for the Steelers.
Rok Stojanovic got the start in goal against his former club and with no import restrictions in pre-season, Mike Robinson served as back-up.
Thirteen outskaters made their debuts for the Panthers, while defenceman Josh Tetlow and forward Ollie Betteridge returned after a year in Europe.
Deflected goal gives Steelers a first-period lead
Patrick Watling shot wide for the Steelers within the opening minute, Marc-Olivier Vallerand hit the post short-handed before the hosts took the lead when Scott Allen was credited with the final touch as a deflected puck slipped past Stojanovic (12:01).
Nottingham's best chance saw Jordan Kelsall win possession in the offensive zone and set-up Stephen Anderson, but his redirect was saved by Matt Greenfield.
Nieminen on target but Sheffield remain ahead
Panthers had an early chance in the second period as Nieminen skated from one end of the ice to the other before feeding Tyler Welsh who shot just wide.
Nottingham equalised thanks to a fantastic two-on-one break as Betteridge fed Nieminen at the backdoor to go top-shelf to equalise (28:03).
But the Steelers regained the lead on the powerplay within two minutes as Stojanovic made two good saves, but the puck fell to Mark Simpson in the left circle to make it 2-1 to the hosts (29:43).
Feisty third period as Sheffield secure the win
Sjojanovic made a superb stop with his skate to deny Balmas from close range within 30 seconds of the restart.
Sheffield made it 3-1 with the man advantage as Balmas set-up Allen in the slot to turn in his second of the night (48:29).
The game boiled over in the final 10 minutes with a whole hosts of fights including Anderson getting the better of Sam Jones, with both players being given Game Misconduct penalties.
Brandon Whistle secured the victory for the hosts with an empty-net goal (59:02).