Storm v Panthers

Manchester Storm

The Nottingham Panthers
Match Report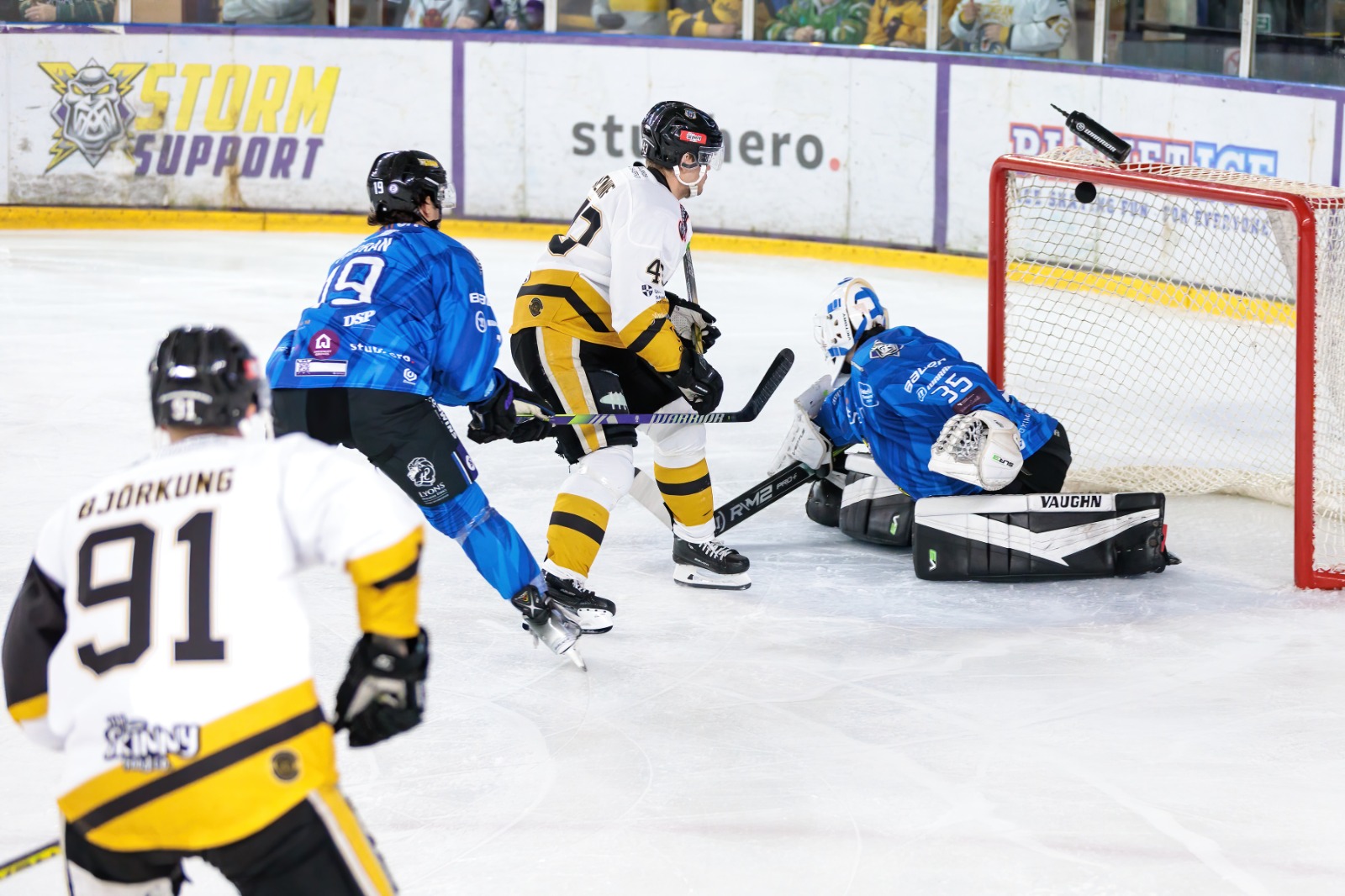 The Nottingham Panthers beat Manchester Storm 4-2 in Altrincham to make a winning start to their Challenge Cup campaign.
Otto Nieminen netted twice to continue his hot goalscoring streak from pre-season, while Adam Johnson was also at the double including a late empty-netter.
Nottingham had a fully-fit roster to choose from and Mike Robinson got the start between the pipes, with British netminder Luca Sheldon serving as back-up.
Panthers score three quick goals to take control
The Panthers blitzed the Storm with three goals in the opening 197 seconds with speed and precision.
After Robinson denied Will Merchant from close range inside the opening 30 seconds, Panthers went ahead when Hugo Roy's cross-ice pass found Nieminen who cut inside from the left and fired past Evan Weninger (1:07).
Superb skills from Michaud sent Adam Johnson clear for Nottingham's second (2:31) and Michaud was provider again only 46 seconds later to feed Nieminen, who came off the left-wing again for his second of the night (3:17).
Tyler Hinam cut inside two Panthers players to fire past Robinson to get Manchester on the board (10:56), before Josh Tetlow and Loren Ulett dropped the gloves and went toe-to-toe at centre-ice.
Robinson denies Storm in second period
​Robinson made a sliding pad save to deny Mitchell Martan before Panthers killed-off two successive penalties midway through the second period, including a short stint of five-on-three.
Hinam hit the post during a good spell of Manchester pressure while British youngster Connor Lee had a close-range shot saved by Robinson.
Johnson seals win with empty-net goal
Robinson made a good save to deny Andreas Heier early in the third period, but Storm scored their second when Martan fired from the left circle on the powerplay (43:50).
Johnson breezed through the Storm defence but his shot was saved while moments later, Alexander Lunsjö was denied on the doorstep.
Lunsjö and Johnson also went close on a late third-period powerplay, before Johnson wrapped the game up with an empty-net goal from the left-wing (59:46).