Panthers v Storm

The Nottingham Panthers
Manchester Storm
Match Report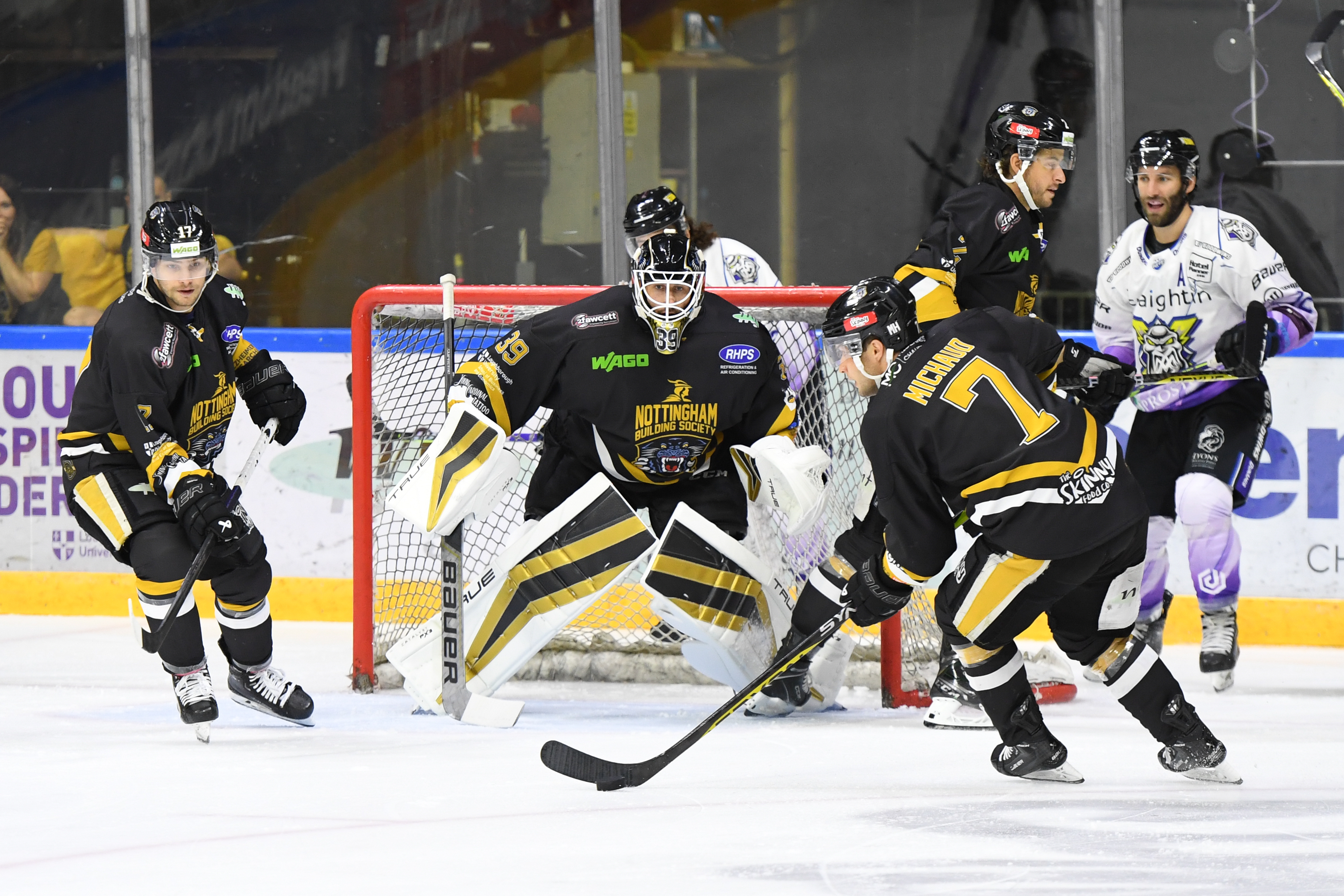 The Nottingham Panthers were beaten 3-2 by Manchester Storm at the Motorpoint Arena in the opening game of the Elite League season, despite an exciting third-period comeback.
Panthers had a fully-fit roster to choose from with Rok Stojanovic named as the starting netminder and Nottingham-born Luca Sheldon serving as back-up
No goals in end-to-end opening period
Mathieu Lemay, Alexander Lunsjö and Jordan Kelsall had chances for the Panthers in the opening stages, before Stojanovic made a good save to deny Storm's Mitchell Martan on a first-period powerplay.
After a spell of Storm pressure, Ollie Betteridge and Westin Michaud went close in quick succession but the two sides were scoreless at the first intermission.
Storm score three times in second session
Victor Björkung and Lunsjö had chances on an early second-period powerplay for the Panthers, before a giveaway in the offensive zone enabled Martan to break clear and slide the puck past Stojanovic to put Storm ahead (27:55).
Manchester scored twice in 84 seconds to take control of the game with Santeri Haarala breaking clear to fire under Stojanovic moments after a Panthers powerplay had just come to an end (31:31), while a well-worked move was finished off at the backdoor by Tyler Hinam (32:55).
Third-period comeback proves in vain for Panthers
Panthers pulled a goal back early in period three as Otto Nieminen exchanged passes with Michaud and sneaked the puck in at the near-post (42:58).
Nieminen then turned provider as his feed from behind the net found Hugo Roy for a one-timer from the right-circle to reduce the deficit to one (46:28).
Hinam hit the bar with five minutes remaining and Panthers lifted Stojanovic for the extra skater with three minutes left on the clock.
Despite constant pressure, Panthers could find no way through and Storm held on for the two points.