Panthers v Steelers

The Nottingham Panthers

Sheffield Steelers
Match Report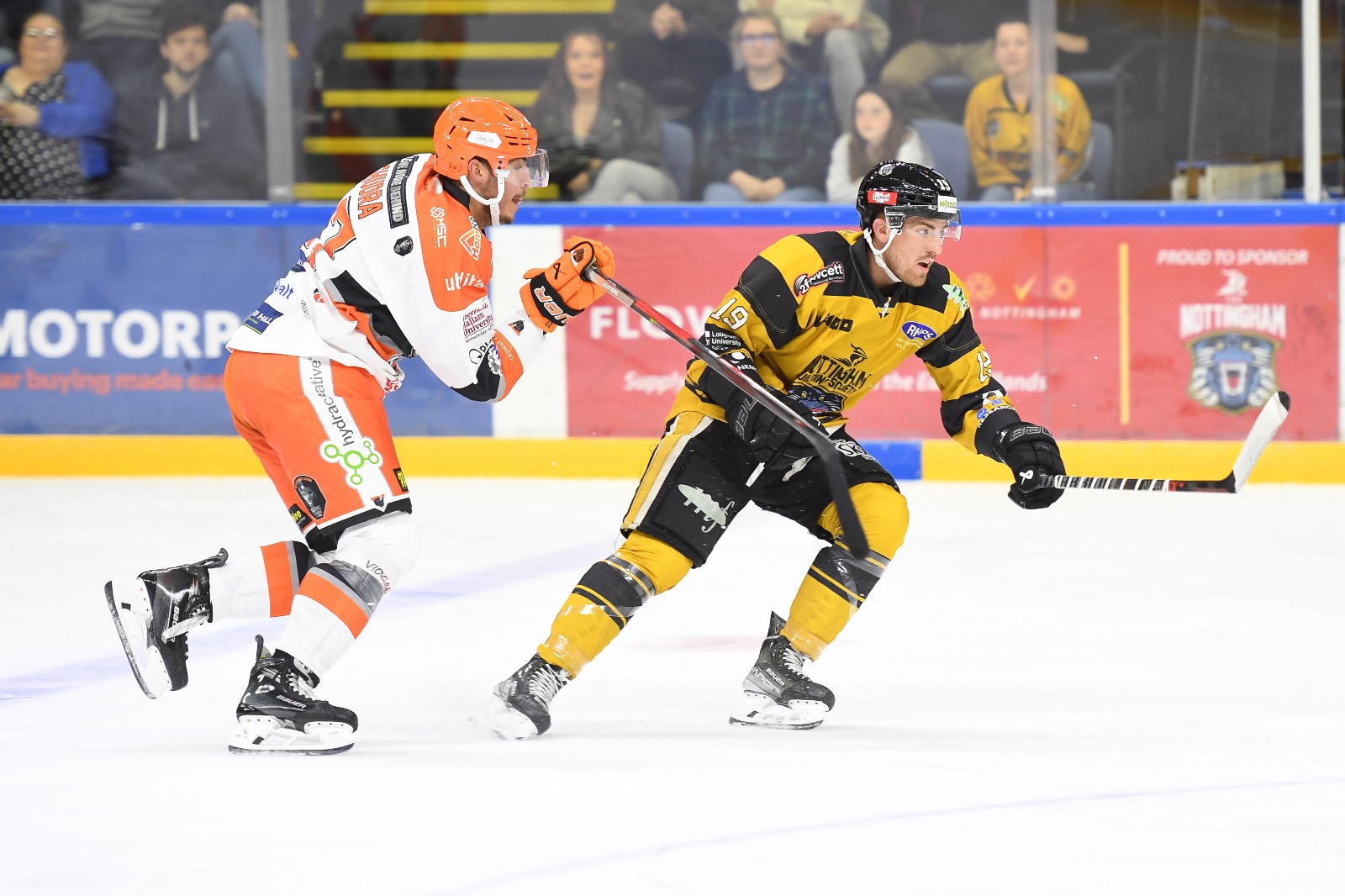 The Nottingham Panthers were beaten 6-0 by Sheffield Steelers in the Challenge Cup at the Motorpoint Arena on Saturday night.
Panthers were without Ollie Betteridge (upper body injury) while Zaine McKenzie was icing for Telford Tigers in the NIHL.
Mike Robinson got the start in goal for the Panthers with Luca Sheldon serving as back-up.
Steelers lead by three at first intermission
Sheffield made a strong start with Robinson making saves from Robert Dowd and Daniel Ciampini inside the opening minute, before Ciampini scored at the backdoor to put the hosts ahead (1:18).
Nottingham's first chance saw Adam Johnson's shot saved after he found room down the left-hand side, but Steelers doubled their advantage when Dowd popped home a rebound (4:19).
Johnson, Mathieu Lemay, Otto Nieminen and Didrik Henbrant all went close for the Panthers in quick succession before Robinson made a good save to deny Ciampini on the breakaway, but Sheffield scored their third through Mark Simpson's shot from the right-circle (16:46).
Sheffield score three more to take total control
Panthers killed-off three successive penalties including over a minute of five-on-three and then Lemay and Johnson had chances on a powerplay.
But Steelers scored three times in just over three minutes to take total control as first Scott Allen fired top shelf from left-point (36:30).
A superb top-shelf finish from Mitchell Balmas made it five (38:37) and Marc-Olivier Vallerand broke clear to slide in Sheffield's sixth (39:50).
No goals in third period as Sheffield ease to victory
Johnson and Alexander Lunsjö had chances for the Panthers on an early third-period powerplay, but Matthew Greenfield once again stood firm.
Robinson made a good save to deny Brett Neumann who cut through the Panthers defence with a great piece of skill.
Sheffield made a netminding change for the final three minutes with Angus Laing replacing Greenfield as the duo completed a team shutout.