Flames v Panthers

Guildford Flames

The Nottingham Panthers
Match Report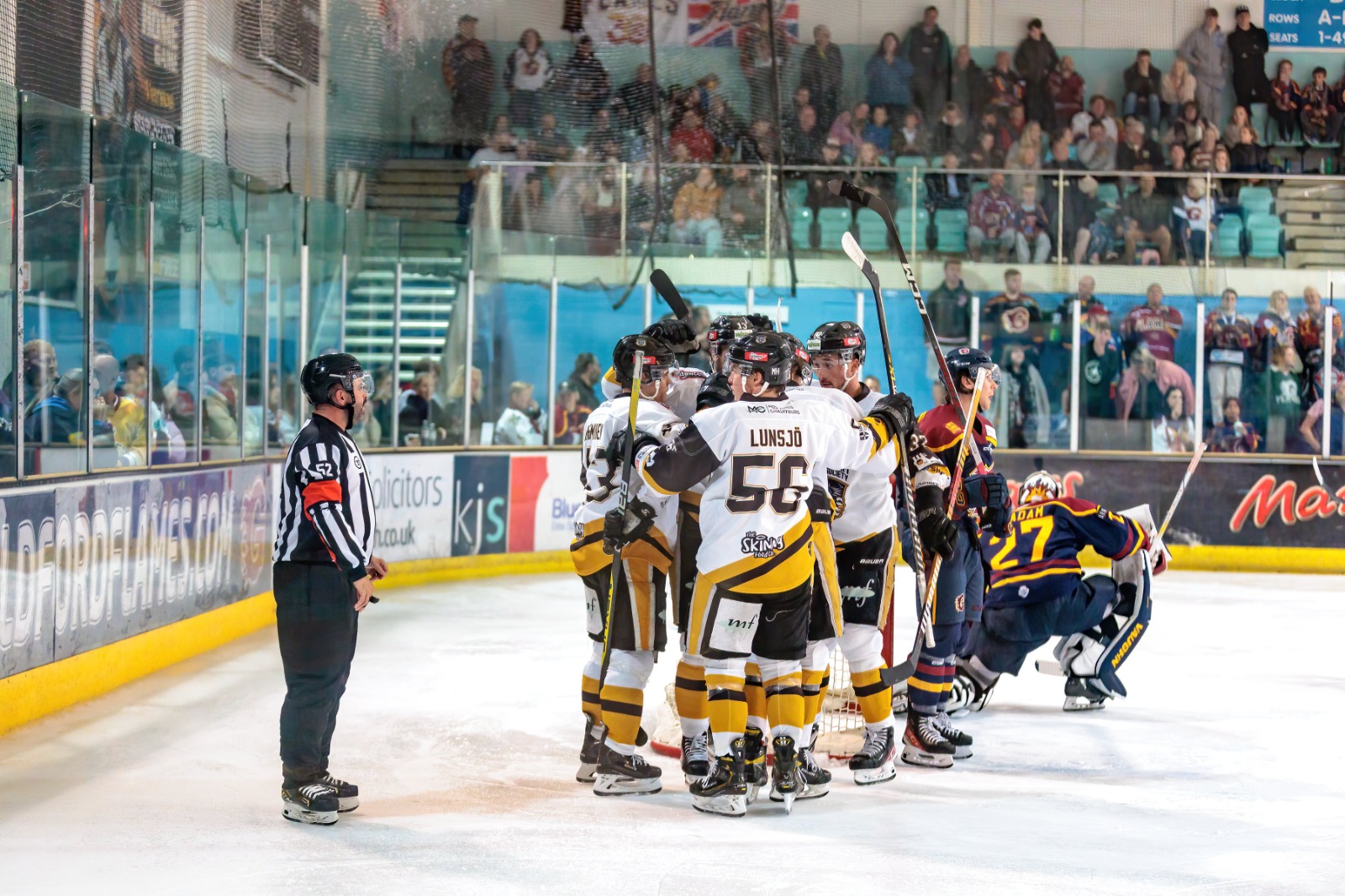 The Nottingham Panthers secured two huge Elite League points as they came from 2-0 down to win 3-2 on-the-road at Guildford Flames after a penalty shootout.
Rok Stojanovic turned away four of Guildford's attempts in the shootout, with Alexander Lunsjö and Mathieu Lemay scoring past Eamon McAdam for the Panthers.
Nottingham were without Ollie Betteridge for a second game in a row (upper body injury), while Zaine McKenzie was icing for Telford Tigers in the NIHL.
Johnson on target for Panthers but Flames lead at first intermission
After Ben O'Connor had a chance inside the opening minute, the hosts took the lead through Jordan Klimek's blast from the blueline (4:49).
Otto Nieminen and Lemay went close for the Panthers, but O'Connor fired in his 100th Elite League goal from left-point to stretch Guildford's advantage (16:56).
Nottingham hit back in the closing stages of the period on the powerplay when Adam Johnson got the final touch following a scramble around the net (19:30).
No goals in lively second period
Panthers had the better of the second period with Didrik Henbrant going close on the wraparound after strong work by Johnson and Westin Michaud.
Björkung set-up Henbrant in the slot and Lunsjö had a shot cleared off the line while at the other end, Sjojanovic made two good close-range saves to deny Ryan Hughes.

Henbrant ties it up with first professional goal
Tyler Welsh had a shot saved from the left-circle as Panthers pushed hard for an equaliser, before Stojanovic saved Ryan Tait's shot from the right circle.
Panthers drew level through Henbrant's first goal as a professional as he wrapped around the net and his pass across the crease deflected past McAdam off a Flames skate (48:59).
Stojanovic stands firm in the shootout
Lunsjö had a chance to win it overtime while Stojanovic made a fine stop to deny Lewis Hook from close range to take the game to a penalty shootout.
The shootout saw Stojanovic only beaten once with Lunsjö and Lemay beating McAdam to secure the extra point for the Panthers.