Clan v Panthers

Glasgow Clan

The Nottingham Panthers
Match Report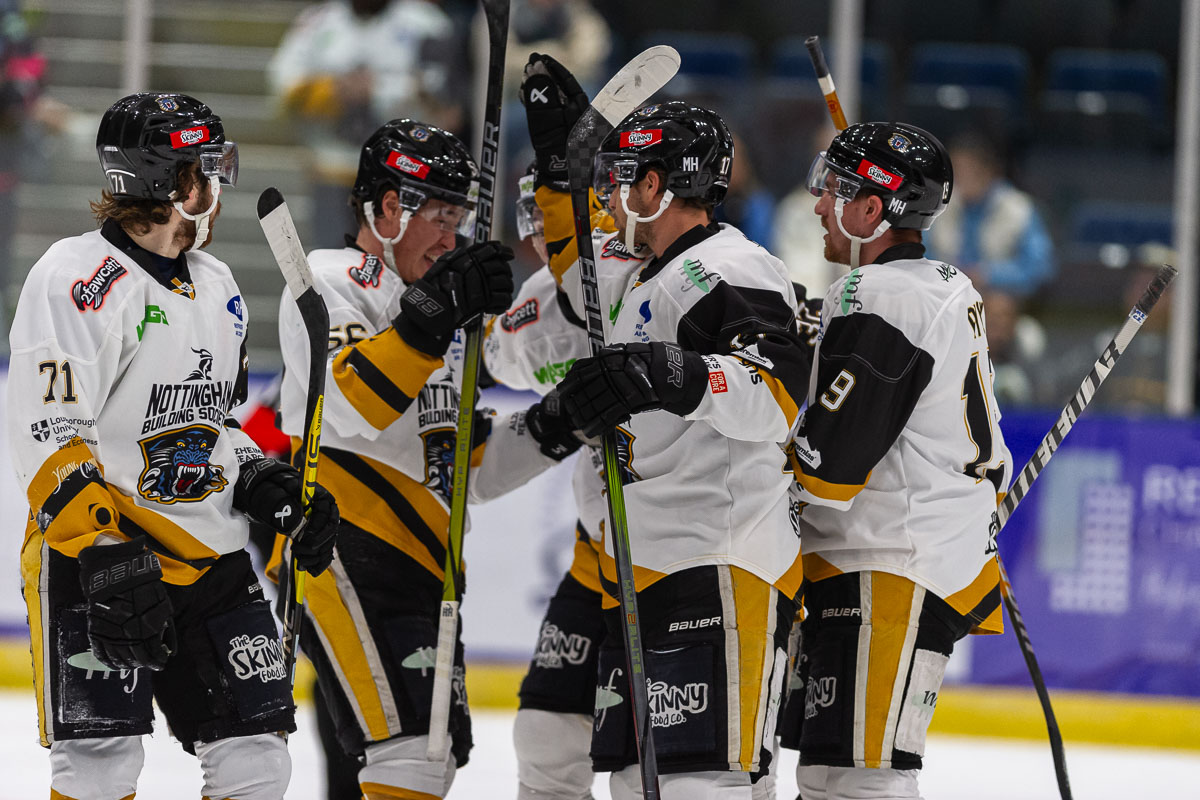 Mathieu Lemay scored a hat-trick as The Nottingham Panthers won 7-6 at Glasgow Clan after a penalty shootout to go joint-top of the table with a fourth successive Elite League victory.
Alexander Lunsjö and Hugo Roy scored in the shootout while netminder Rok Stojanovic stood on his head as he turned away all four of Clan's attempts.
Forward Didrik Henbrant missed the game after he was handed a one-match suspension for slashing in the 2-1 overtime victory over Dundee Stars at the Motorpoint Arena on Saturday night.
Luca Sheldon remains out of action through injury (upper body), so 18-year-old Nottingham Lions netminder Isaac Ballinger iced as back-up to Stojanovic for a second night in succession.
Johnson and Lemay on target as Panthers lead at first intermission
Panthers started strongly as Stephen Anderson fed Tyler Welsh but he was denied by a superb save from Jake Kielly, before the hosts took the lead when Gary Haden fed Dyson Stevenson in the slot who went backhand past Stojanovic with a neat finish (3:51).
Panthers drew level when they forced a turnover in the offensive zone and Westin Michaud found Adam Johnson who slotted the puck past Kielly just to the left of the goal (10:51).
With the period drawing to a close Nottingham went ahead as Lemay started the move and finished it off at the backdoor, with a give-and-go with Carl Neill who found him with a patient pass in-front of the crease (18:44).
First Panthers goals for McGurty in second period
After a tight opening to the second session, Panthers had two successive chances when Lemay went close on a two-on-one break while Johnson also saw his shot saved.
But Clan drew level on the powerplay as Philippe Sance fired through traffic after cutting inside from the blueline (33:41).
Myles McGurty scored his first Panthers goal as he fed Hugo Roy right-hand side and then redirected the pass towards goal past Kielly (38:32).
Seven goals in crazy third period
Stojanovic made two great saves to stop Darien Craighead on a Clan powerplay that spanned the second intermission and Nottingham went close when Logan Neilson fed Tyler Welsh who saw his shot come back off the pipes.
Four goals in 131 seconds saw game burst back into life as first Craighead drove the net and converted Jordan Buesa's pass (43:37) to equalise, before Otto Nieminen cut inside from the right fired through traffic (44:58).
Haden's wraparound hauled Clan level again (45:27) and from the next attack, Michaud fed Lemay to fire in his second of the night from the top of the left-circle to edge Nottingham in-front (45:49).
A wraparound from Mike Pelch tied the game at five at 49:08 before Lemay completed his hat-trick as he took the puck out the air to score from close-range (52:27).
Jordan Cownie drove the net and scored on his backhand for a fifth Clan equaliser of the night (53:15), while Stojanovic made a late third-period save to deny Nate Kallen.
Stojanovic is the rock as Panthers secure four-point weekend
In overtime, Glasgow's Kallen missed an open net, Haden hit the pipes and Stojanovic superbly denied Craighead from close-range, as well as Cownie on a breakaway.
For the Panthers, Roy's shot came back off the post and Lemay went so close to scoring a fourth of the night but his shot deflected over.
In the shootout, Stojanovic was a rock and turned away Clan's four attempts while Lunsjö and Roy scored to earn Panthers a four-point weekend.