Panthers v Flyers

The Nottingham Panthers

Fife Flyers
Match Report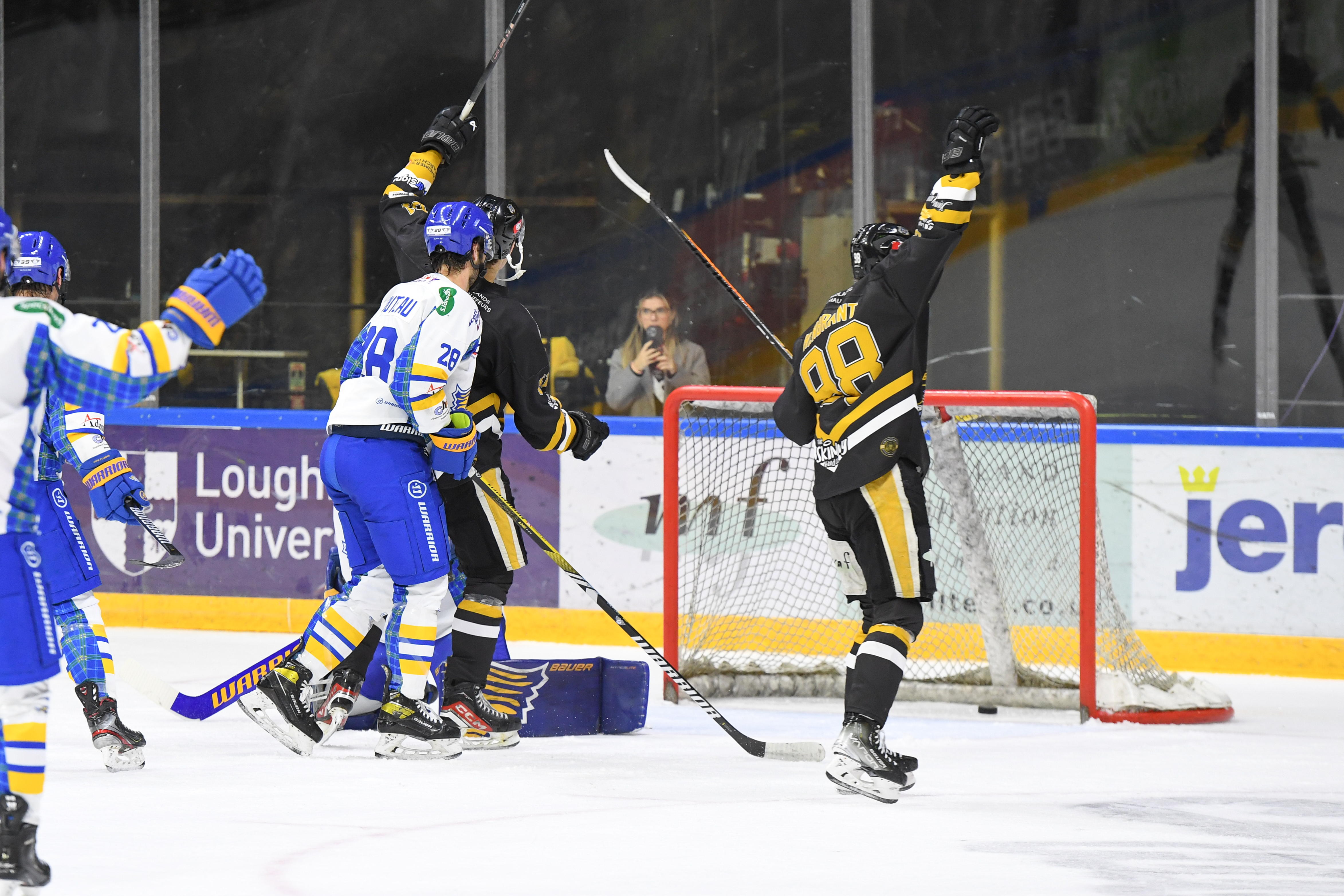 The Nottingham Panthers secured a sixth successive Elite League victory with a 4-2 win over Fife Flyers at the Motorpoint Arena.
The victory saw Panthers move onto 12 points and level with Sheffield Steelers, who lead the standings on regulation-time wins.
Panthers were without defenceman Josh Tetlow (broken arm) and Jake Ryczek (lower body) because of injury, while Rok Stojanovic got the start between the pipes with Mike Robinson back-up.
Fife score only goal of first period
The Flyers had an early chance for Brady Pouteau who forced a superb save from Stojanovic while at the other end, Otto Nieminen was denied thanks to a top-class save by Shane Owen on the doorstep.
The visitors took the lead when Stephen Desrocher found room in the offensive zone and took his time before firing under Stojanovic's glove (10:33).
Mathieu Lemay came close to equalising but his shot was cleared off the line, while the forward also had a chance late in the period after he was set-up following great hustle by Westin Michaud in the offensive zone.
Roy and Neill on target as Panthers lead at second intermission
Michaud did well to create a chance for Victor Björkung who saw his effort from the slot saved by Owen, while Logan Neilson hit the pipes with a shot from the right circle.
Panthers' pressure finally paid dividends when Adam Johnson set-up Nieminen on the goalline and he found Hugo Roy for a blast into the top corner from the left-circle on the powerplay (29:29).
Nottingham soon went ahead when superb forechecking by Neilson won the puck, before Carl Neill did well to keep the puck in the zone, toedrag his man and fired a beauty past Owen for his first goal as a Panther (32:47).
Henbrant scores game-winner and Michaud adds an empty-netter
Didrik Henbrant had the first chance of the third period when he cycled the puck behind the net, came out in-front and his shot was saved by Owen, as was the follow-up from Ollie Betteridge at close-range.
Fife equalised on the powerplay when Kyle Osterberg did well to create the chance for Anthon Eriksson who fired top-shelf on the powerplay (47:48).
Owen made a huge save to deny Johnson after a feed by Roy on a two-on-one short-handed break, before Johnson created a turnover and set-up Hebrant to score in the slot (56:58).
Michaud iced the game with his first goal for the club as he used his strength to win the battle for the puck and fired into an empty net with Owen lifted for the extra skater (59:24).