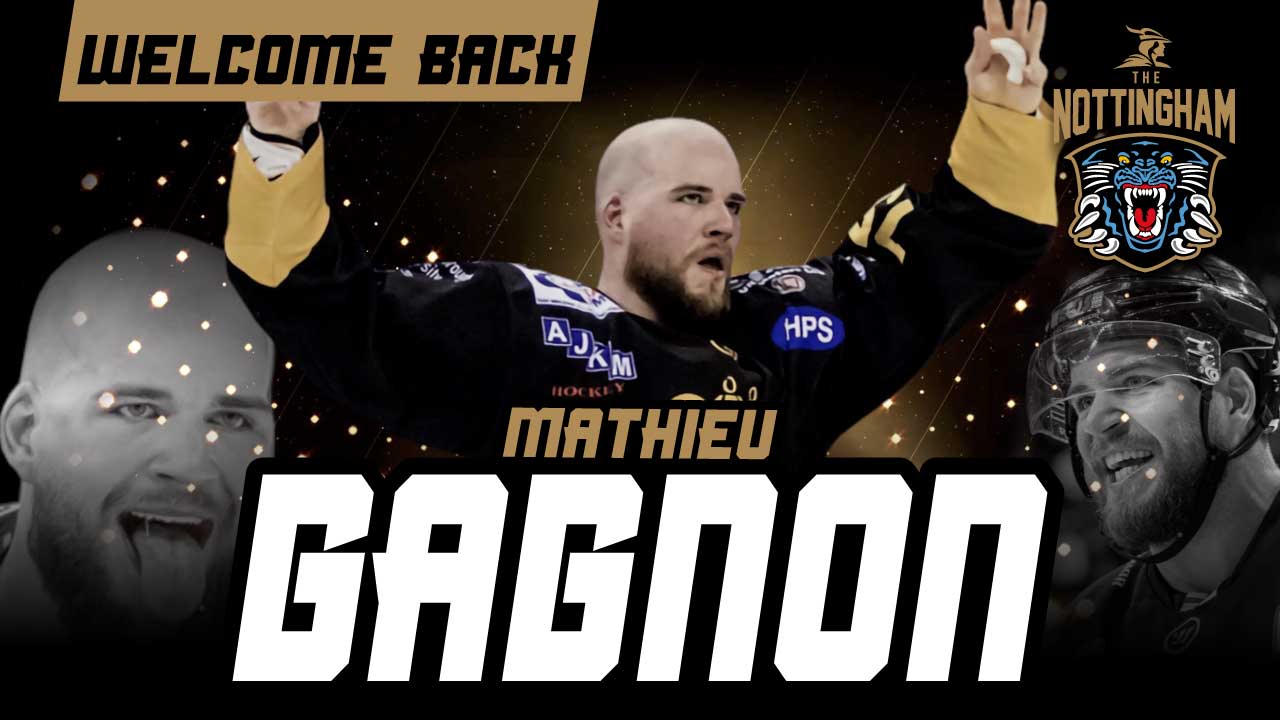 The Nottingham Panthers are delighted to confirm the signing of Mathieu Gagnon for the 2022/23 Premier Sports Elite League season.
Mathieu is no stranger to the Panthers as the rugged defenceman was a key part of the roster during the 2017/18 season, where he helped the team qualify for the Quarter-Finals of the prestigious Champions Hockey League – the highest placed finish that any British team has achieved in the competition.
His no-nonsense "take no prisoners" style of play endeared him to Panthers' fans of all ages during his previous season patrolling the ice inside the Motorpoint Arena Nottingham. Mathieu spoke to PanthersTV, with Jeremias Chimney Systems, about what it will mean to him to pull on a black & gold jersey once again:
"I've got nothing bad to say about my previous time in Nottingham, the fans were so great to me to be honest and showed me so much love.
"Coming back was a no brainer after all of that love, all I can say to them is thank you."
Since leaving Nottingham in 2018 he has iced in the ECHL with Brampton Beast, Wichita Thunder and Trois-Rivieres Lions, AlpsHL (HDD Jesenice) before returning to the EIHL for the 2019/20 season with the Manchester Storm.
During recent seasons Mathieu has taken on greater responsibility alongside protecting his teammates, wearing an "A" on his jersey in each of his last three campaigns.
However, that greater responsibility has not affected his style of play with the Montreal native recording 65, 131 and 166 minutes in penalties in those three seasons.
Head Coach Gary Graham couldn't contain his delight at capturing Mathieu's signature when he spoke to panthers.co.uk shortly after the news was confirmed:
"Gagz is a true teammate that gives you everything he has all the time.
"He's someone who can shut down other team's top players as well as give us that sandpaper identity we need, he's a great personality and a glue guy too.
"Coming back for a second time in black and gold, his history and love with Nottingham and it's fans will be great to see."
Player sponsorship packages are available for Mathieu, just contact sarah@panthers.co.uk for more information.