Sat 18 Nov 2023 - 10:00PM
AJ47 MEMORIAL GAME: PANTHERS 4-4 STORM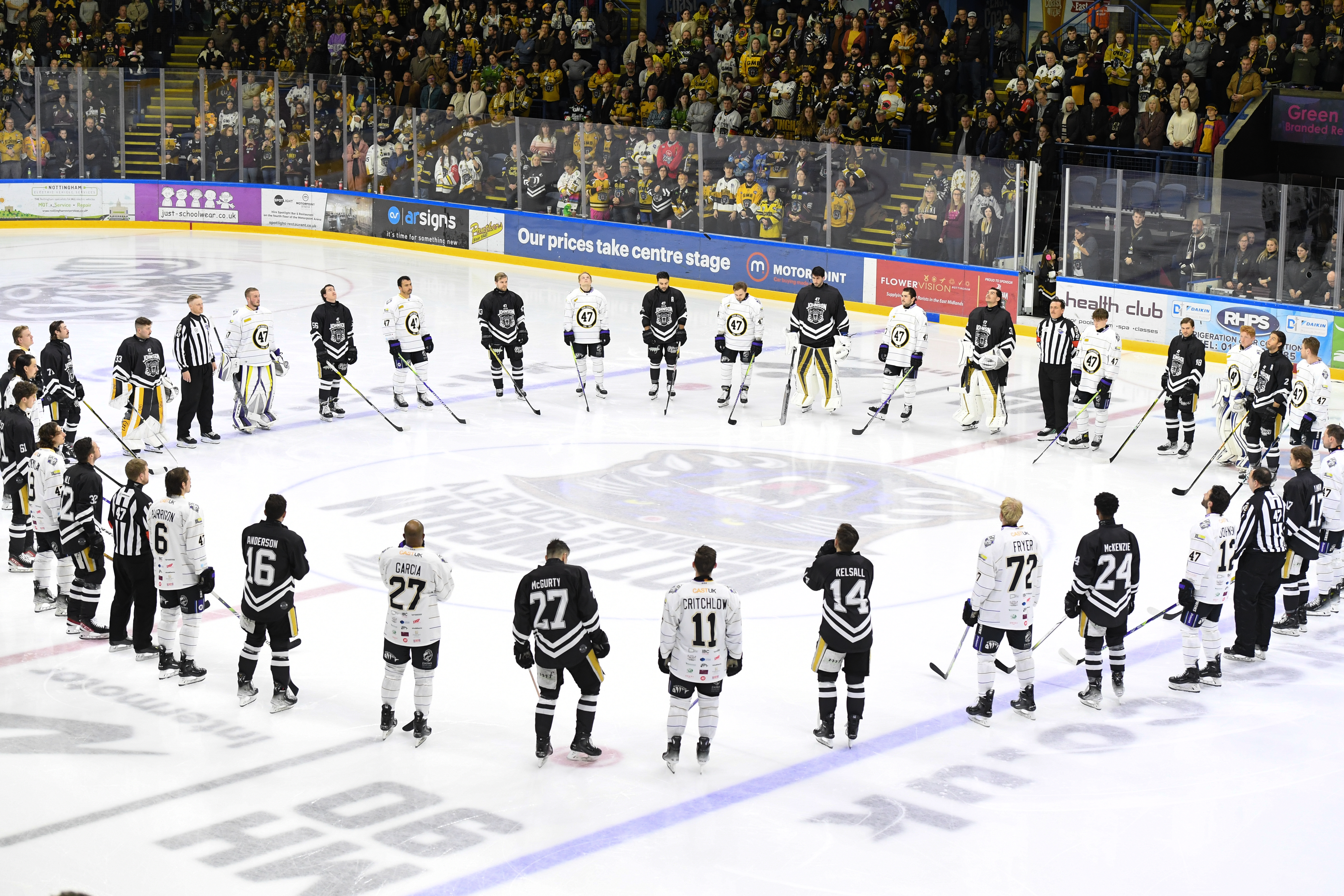 An uplifting and moving Adam Johnson Memorial Game saw The Nottingham Panthers and Manchester Storm draw 4-4 at the Motorpoint Arena.
The Panthers would like to thank everyone who joined us in the rink or watched from around the world - your support was outstanding.
It started at warm-up where Panthers took to the ice to cheers and applause that lasted for minutes and set the tone for the rest of the night.
A beautiful pre-game tribute saw both teams gather in a circle to watch a moving tribute video, which was followed by the announcement that Adam's #47 jersey will be retired by the club.
Rok Stojanovic started between the pipes as Panthers rotated all three netminders with a period each throughout the game.
Manchester took the lead through Michael Korol from the left-circle (12:59), before Ollie Betteridge put away a rebound 15 seconds later (13:14).
Mike Robinson replaced Stojanovic for the second period, but he was beaten when Cam Critchlow put Storm ahead for second time as he shot short-side from the slot (28:46).
Once again Panthers hit back on the very next shift just 47 seconds later as Jake Ryczek fired home from the top of the right-circle (29:33).
Within 28 seconds it was 3-2 to the Panthers as Didrik Henbrant nearly fed Ollie Betteridge from behind the net for his second of the night (29:51).
Luca Sheldon took over from Robinson and Panthers made it 4-2 at the start of the third period when Carl Neill fed Zaine McKenzie for a beautiful wrist-shot from the right-circle (42:50).
The 47th minute saw a rousing standing ovation for Adam as play stopped and players, staff and officials stopped to applaud our 47.
Manchester reduced the arrears through Matt Murphy from the right-circle (50:59) and Critchlow equalised with a rebound from close-range (57:24).
Alternate Captain Carl Neill took the mic at the end of the game to thank everyone for their remarkable support.
From the bottom of our hearts, thank you.