Tue 21 Nov 2023 - 11:00AM
TICKET WINNERS FROM AJ47 MEMORIAL GAME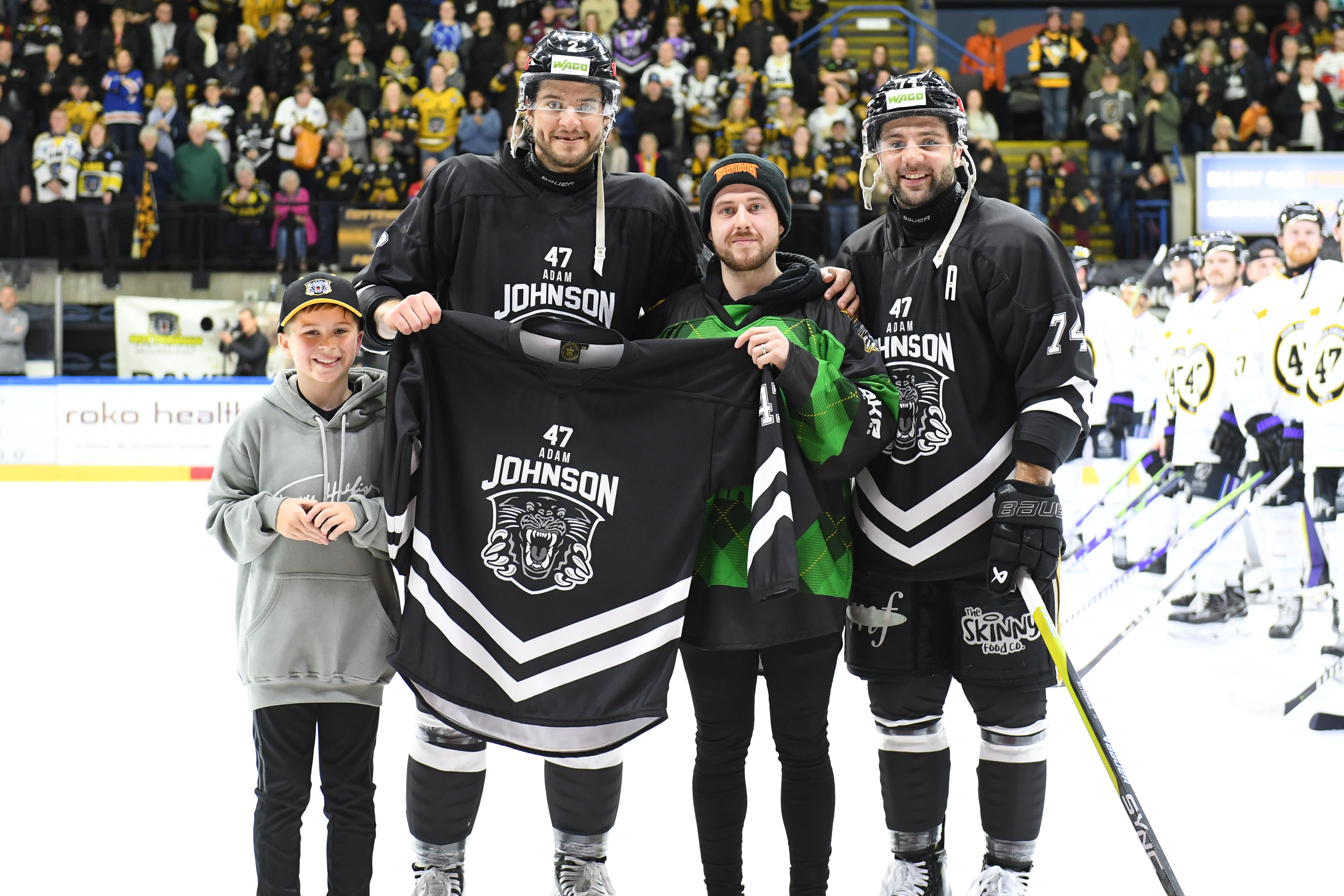 Thank you for your outstanding support on Saturday night at the Adam Johnson Memorial Game with profits from our competitions raising thousands of pounds for the Love for Hibbing and Hockey Memorial Fund.
​Chuck-a-Puck - sponsored by Midlands Chauffeurs - was won by puck number 0189 with Ollie landing his puck closest to Paws at centre-ice during the second-period intermission. He chose his namesake Ollie Betteridge to have a photo with after the game. Chuck-a-Puck returns on Saturday when Belfast Giant visit the Motorpoint Arena where the winner will go onto the ice after the game for a photo with a player of the choice, a signed puck and a code for two free pizzas.
Saturday night's Shirt Off His Back - sponsored by the arena's main sponsor Motorpoint - was ticket number 2336 and congratulations to James who won the very special prize of a #47 Adam Johnson jersey signed by the Panthers roster and presented by Mike Caruso. Lookout for Shirt Off His Back on Sunday where another fabulous jersey can be won!
Well done to Trevor Crookes who was the Fifty50 winner, taking home a breathtaking £3,378 with ticket number 3443. Fifty50 returns as usual on Sunday against the Giants with another chance to win a huge cash prize.
Don't forget, each week we have a second-place price draw where the tickets from Fifty50 and Shirt Off His Back go back into the hat. The winner from Saturday was Shirt Off His Back ticket number 2292 and if that's you, there's two tickets to an upcoming show at the Motorpoint Arena. Simply pop to the Panthers VIP desk in the foyer at the next home game to claim your prize.
The Panthers Vault - in association with Interseal Fire Protection - was won on Saturday by Christine who took home a remarkable £1,500. Thank you to Christine who donated £500 of her prize to the Love for Hibbing and Hockey Memorial Fund. The Vault is back on Sunday and tickets cost £1. If yours is drawn out of the hat, you go rinkside with DJ Ken Feast to try to win the money inside the vault. Choose a Panthers player from the jumbotron to reveal a four-digit code and see if it unlocks the vault. What's more, you won't leave empy-handed with a pair of tickets for an arena show on offer each home game even if you don't crack the code The tickets are kindly donated by the arena's main sponsor, Motorpoint.