Sat 18 Nov 2023 - 06:30AM
WE CELEBRATE THE LIFE AND CAREER OF ADAM JOHNSON TODAY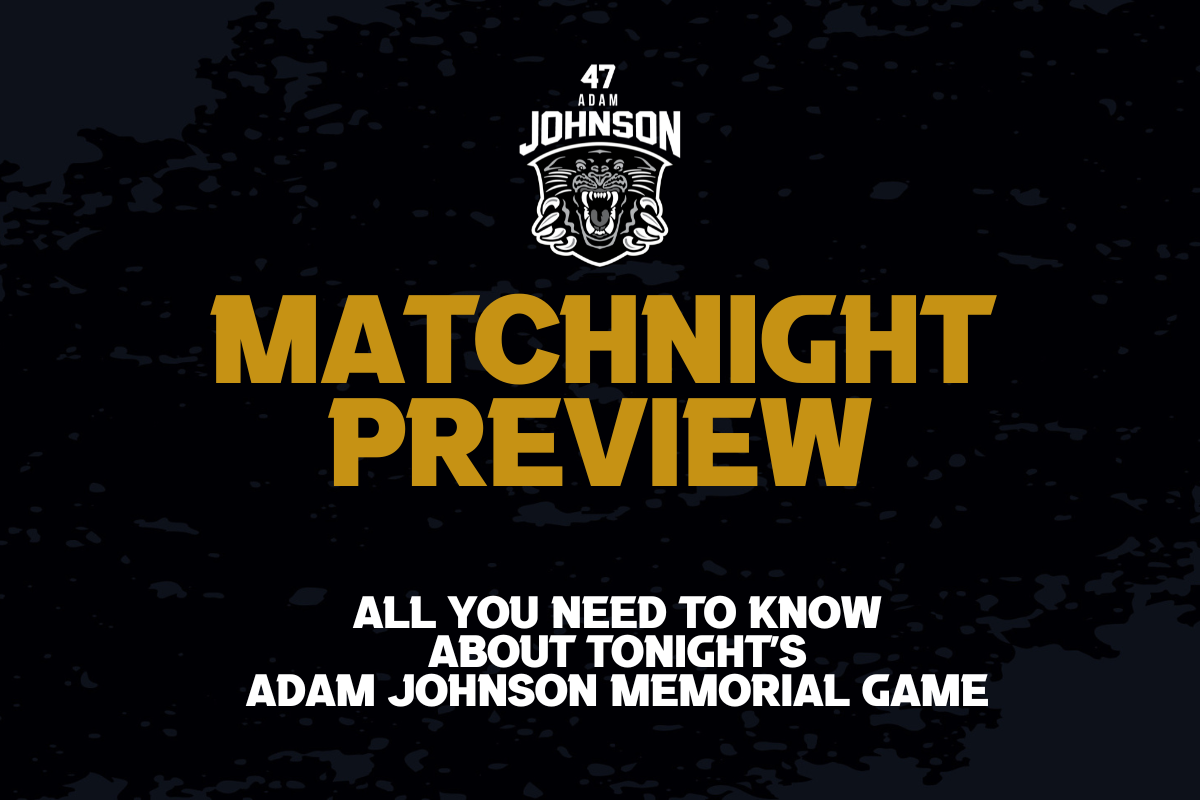 🖤 DONATE TO THE OFFICIAL ADAM JOHNSON GOFUNDME PAGE HERE 💛
📺 WATCH THE ADAM JOHNSON MEMORIAL GAME LIVE ON YOUTUBE 📺
We come together today to celebrate the life and career of Adam Johnson as The Nottingham Panthers host Manchester Storm at the Motorpoint Arena (7pm face-off).
It's a night to pay tribute to the person that Adam was and how he touched the lives of so many people across the world, not just for his talent on the ice but the person he was off the ice.
Our thoughts remain with Adam's partner Ryan, his family, friends and team-mates and the hope is everyone can draw strength from the love and support shown throughout the world.
Of course tonight there will be tears and it's going to be an emotional night for everyone, but we want it to be an occasion that will help supporters return to their happy place - their seat in the Motorpoint Arena. We want to celebrate what Adam meant to us here in Nottingham and people around the world.
Doors open at 5:30pm and there will be a special tribute to Adam ahead of face-off. We invite all supporters, who are able, to rise in the 47th minute for a minute's applause.
Make sure you're in your seats early to welcome this amazing group of players and staff onto the ice. The strength this team has shown to get back to training and prepare for a return to action has been remarkable.
The Panthers will wear the Adam Johnson Memorial Jerseys and these game-worn shirts will be raffled off. Keep your eyes on our social media and website for more details.
The usual activities including Fifty50, Shirt Off His Back, Chuck-a-Puck and Panthers Vault will be on sale - all of which will be raising money for the Love for Hibbing and Hockey Memorial Fund.
The Shirt Off His Back in particular is a very special prize with an Adam Johnson #47 shirt being signed by the whole team.
The Adam Johnson #47 pucks can be purchased from the Ice Locker Merchandise Stand for £7, but please note that the AJ47 jersey is only available online.
Prints of the fantastic Forever Our 47 drawing of Adam Johnson by Natalie Owen are also on sale and these can also be purchased from the Ice Locker Merchandise Stand.
All profits from the AJ47 jersey, puck and Adam Johnson prints will go to the Love for Hibbing and Hockey Memorial Fund.
The beautiful floral tributes remain on Bolero Square and you are welcome to bring flowers to add to the memorial. You can also bring plants and the Motorpoint Arena have arranged for a planter to display these.
The Books of Condolence for Adam are available for fans to write their own messages and these will be located behind Block 1 and Block 19. We will have these books available at future games for those who have not been able to sign them so far.
For people who may struggle on their return to the rink, the local mental health charity - Vita Health Group - are in the foyer for anyone who needs a conversation.
The game will be broadcast for free on YouTube around the world but if any viewers feel they would like to make a donation, they can do so via the GoFundMe page which is raising money for the Love for Hibbing and Hockey Memorial Fund.
Once again, we'd like to thank you for your remarkable support at this difficult time and we look forward to seeing you whether it's in-person or via the YouTube broadcast for the game which is sponsored by RDR Stoves.